Mozambique Accommodation
Ponta Do Ouro is the southernmost tip of Mozambique and attracts many visitors every year with its friendly atmosphere, sandy beaches and excellent diving. The coastline stretching north from Ponta Do Ouro towards Ponta do Malongane is known for its marine life, beaches and dive sites. To add to the adventure access is by 4x4 only from the border with South Africa from where most resorts will collect their guests.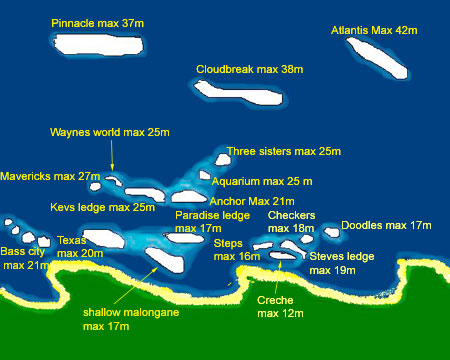 The Ponta do Ouro area of Mozambique offers diving for all levels of diver, with great sandy patches among the reef to start learning to dive all the way through to adrenalin Shark encountering dives. The area is renowned for its beautiful coral, game fish and invertebrates, throw in the Whale sharks, Hammerheads, passing Manta Rays and the friendly Potato Bass to make this a fantastic diving area.
All boat launches are done from the beach into the surf, so be prepared to partake and help out. Most of the dive sites are only a short boat ride away so you can get plenty time diving instead of riding to and from the dive sites, on the boat keep an eye out for the dolphins and whale sharks that cruise the bay.
Ponta do Ouro reefs: Water Temperature: 20 – 28 ° C
1. Bass city

Level of dive: Advanced
Depth: 20 - 25m

This reef is famous for its friendly Potato Bass nicknamed 'Bert' there are several other large Bass around the reef but Bert is the only one that will swim with you. On the way down the mid waters are filled with game fish. The five rocks that make up this reef are covered with soft corals where Lionfish (often you will see over a dozen at once) and Sweepers lurk. In the overhangs you will discover Shrimp cleaning stations and Octopus, among the sand you will see Carpet Eels and various members of the Manta family.
2. Texas

Level of dive: Open water
Depth 12 - 16m.

This is a large sprawling reef of soft coral in shallow waters, with lots of arches and overhangs to explore, in the centre are some wonderful gullies to explore. There is a large variety of fish to be seen as well as Turtles, Scorpion fish, Rays and Eels. An ideal drift dive
3. Shallow Malongane

Level of dive: Open water
Depth: 13 - 17m

A long (almost 3 km) reef stretching along the inside of Malongane bay covered with both hard and soft Coral, with large areas of Stag Horn Coral. A perfect place for Juvenile fish including Pickhandle Barracuda cruising along looking for their next meal, while spotted Eagle Rays glide over the sandy patches.
4. Creche

Level of dive: Open water
Depth: 10 - 12m

Named because of the large number of juvenile fish that inhabit the area, the reef is a collection of boulders and rocks on a sandy bottom. Rays, Eels, Potato Bass, Crocodile fish, Scorpion fish and Green Job fish are among some of the species seen here.

Being close to shore in shallow waters this is best dived between tide turns.
5. Kev's Ledge

Level of dive: Advanced
Depth: 19 - 25m

The only Wall dive in the Ponta area, with a large overhang on the bottom where a Hawksbill turtle is often found napping, A big area of Maze Coral guards the entrance providing good protection for many juvenile fish, often Kingfish will sweep in to attack causing a flurry of activity amongst the young fish. Many species of Nudibranch are found all around the wall. On the top the ledges are covered with hard Coral and are inhabited with Mantis Shrimp, Zebra Eel, Star Fish and more.

At the point of the ledge is a gathering area for fish such as Yellow and Blue Rock-cod.
6. Maverick

Level of dive: Advanced
Depth: 25 - 28m

Consisting of one huge boulder surrounded by scatterings of reef, this is a fascinating dive site. Eels are in abundance, Black Cheeked, Geometric and Honeycombed Morays among them, Pipefish, Nudibranch and Mantis Shrimp among the many creatures you will observe here. Frog Fish and Scorpion Fish also inhabit this reef.

Both the hard and soft Coral in the area is beautiful, with Mushroom, Sponge, Spiral, Lobed and Table top Coral scattered all around.
7. Wayne's World

Level of dive: Advanced
Depth: 20 - 29m

Covered in Warty Bush Coral and Maze Coral, this is part of the Malongane reef system, it has a large swim through where you will often find a Potato Bass lurking.

Frogfish love this area and can often be seen swimming around, while Zebra Morays hide among the Maze Coral, above you may pass the occasional Manta Ray. Game fish also lurk around, Wahoo, King and Queen Mackerel as well as Kingfish often dart in from the blue. See if you can spot the Torpedo Ray or Marbled electric ray on one of the reef ledges!
8. Paradise Ledge

Level of dive: Open Water
Depth: 9 - 18m

Mainly a rock reef but plenty coral species around, home to a mixture of young fish, Eels, Scorpion Fish with occasional visits from Turtles. With sandy patches between the various pinnacles, gullies and overhangs it is an interesting site and great for improving Buoyancy control!
9. Steps

Level of dive: Open Water
Depth: 13 - 16m

Part of a thin reef that is almost 4km long a series of overhangs and cracks are available to explore. A great drift dive passing patches of quiet and areas of intense activity, with Natal Knife Jaw, Cave Bass, Green Job Fish and Sail fin Leaf Fish among the species that can be encountered here. Blue Spot and Brown Ribbon Tail Rays lie basking in the sand while the odd Devil Ray flirts around the fringes of this reef.
10. Checkers

Level of dive: Open Water
Depth: 15 - 18m

Another site where you will encounter a Potato Bass, 'scar face' generally observes you closely as you enjoy his territory. The variety on and around this reef is astounding, both of fish and coral, even the pineapple Frogfish has been spotted here, while clouds of Blue banded snappers and Fusiliers escort you over the site as Batfish circle overhead. Always an interesting dive for all levels of diver.
11. Steve's Ledge

Level of dive: Open Water
Depth: 13 - 19m

Part of steps reef this area has some lovely Plate Coral with ledges and gullies hiding lots of life, Anemones and their Clownfish, Rays, Scorpion Fish, Trumpet fish, Angel Fish and Grouper are among the regulars here. Also keep you're eyes peeled for the Blue Spotted Rays, Potato Bass and the Paperfish. A good site to combine with Steps especially when the current is strong.
12. Doodles

Level of dive: Open Water
Depth: 14 - 17m

Referred to as Ponta's 'Home reef ' only a 10 minute boat ride from the shore, the reef is mainly soft Coral on a scattering of sandstone rocks. Probably one of the busiest reefs in the Ponta area often the reef cannot be seen for the amount of fish in the way! Honeycomb Rays nestle in the sand with Ribbontails and Blue Spotted Rays as companions, Sharks are seen around here Zambezi and Bull Sharks being the most spotted, joining them in the feast are Mackerel, Kingfish, Tuna and Queen fish all enjoying a piece of the action, sometimes you just have to sit on the sand and watch the action above you.
13. Aquarium / Three Sisters

Level of dive: Advanced
Depth: 19 - 25m

Consisting of two large rocky outcrops and a boulder (Aquarium) this is another busy reef with everything from the big game fish sweeping in from the depths to Cleaner Shrimps hiding in the crevices. Giant Sea Fans grow tall and turret Coral and Thistle Coral cling to the reef. Wrasse dart among the Garden Eels while above Angel Fish and Blue Surgeons shimmer in the light. Pipefish, Razor fish and Long nose Hawkfish have all been spotted here.
14. Pinnacle

Level of dive: Advanced (confident diver)
Depth: 28 - 45

A dramatic dive with unforgettable sightings, this is Shark and Game fish area, with the ledges dropping away into the depths, the Shoals of Pickhandle, Barracuda, Mackerel, Kingfish and Wahoo, lure in the Bull Shark, Hammerhead Shark, Dusky Shark and there has even been sightings of the Tiger Shark here. Around you in the Blue you can see Manta Rays, Spotted Eagle Ray and maybe even Sailfish. Not a dive for the nervous or inexperienced.
15. Cloudbreak

Level of dive: Advanced
Depth: 35 - 38

A long flat reef that also attracts game fish and Sharks, deep and with unpredictable currents not an easy dive but rewarded with plenty corals and fish along with Shark sightings. A challenging dive for the adventurous.
16. Atlantis

Level of dive: Advanced (experienced)
Depth: 38 - 47m

Because of its depth and distance from shore this reef is not dived very often, little is known about much of the reef, it is approximately 4km offshore, with a large ledge and a deep drop off, Current is very unpredictable.
17. Anchor

Level of dive: Advanced
Depth: 18 - 21m

A long pretty reef full of nooks and crannies among the hard and soft Corals. Red Fang Trigger Fish, Emperor Angelfish, Yellowback Fusilier, Coral Rock-Cod amble around the Southern end. Crocodile fish have been spotted here but are not easy to spot/identify! It has a small ledge along part of the reef where Trumpetfish, Raggy Scorpionfish and Porcupine fish can be seen. During the Whaling season this area becomes vibrant with the song of the Whales.
Specialist Mozambique Holidays
Mozambique Useful Info