Places to stay in Tofo Hotels lodges self catering camping
Boomers Seaside Bed and Breakfast Tofo Mozambique

Boomers Seaside B&B is perfectly situated in Praia de Tofo, 20 km from Inhambane airport. It is only a 2 minute stroll to the main Tofo beach and a 5 minute walk to the local market. Wake up to the sound of the Indian Ocean, fill your lungs with clean fresh air and realize that you are in bliss. Click here for more information Boomers B&B Lodge

Visited this hotel? Add your comments click here for feedback form

Boomers Bed and Breakfast Reservations: boomerstofo@mozbookings.com
Vanilla View Tofo Mozambique Luxury Villa Bed & Breakfast

Vanilla View is not just a place to stay but an experince where you can relax and enjoy superior quality accommodation

The villa has been designed in a "rustic chic" way allowing it to bland perfectly into the surrounds. There is an abundance of birdlife and if tranquillity is what you are looking for, this is where you will find it.

The house has 3 luxuriously decorated rooms, a rim flow pool, open plan living and breakfast area, outside seating and social areas.

Click here for more information about Vanilla View

Visited this hotel? Add your comments click here for feedback form

Vanilla View Reservations: vanillaview@mozbookings.com

Feedback comments:
Date of Visit:
Name of Guests:
Casa John Tofo Mozambique Selfcatering Cottages

At the very tip of Tofinho with fantastic views over the ocean, these luxury self-catering cottages are a hideaway in paradise. look out in the mornings for the Dolphins and whales and sit out in the evenings to enjoy the stars. Click here for more information about Casa John

Visited this hotel? Add your comments click here for feedback form
Bamboozi Beach Lodge Tofo Beach Mozambique Communal Selfcatering Chalets Dive centre

Bamboozi Photo Gallery

Situated on Tofo beach about 1.5km from the market down a sandy road Bamboozi Beach Lodge is an excellent choice for backpackers, individuals and groups. The busy bar & restaurant overlooking the beach has a great atmosphere and is open late for those who want to socialise.
For those who want to make the effort there is a communal kitchen and kitchens in the chalets (basic cooking utensils only, we advise bringing your own pots & pans if possible). Transfers from Inhambane are free of charge and there is an onsite dive centre. Other activities at Bamboozi include scooter hire, sea kayaks & body boarding. Click here for more information on Bamboozi

Bamboozi Reservations: bamboozi@mozbookings.com

Visited this hotel? Add your comments click here for feedback form
Turtle Cove Tofo Beach Mozambique Room Only Chalets Dorms Restaurant

Turtle Cove Photo Gallery

Hidden away in Tofinhio a few km's north of Tofo is the laid back Turtle Cove, a favourite with surfers but also good "chilling" place for any traveler who make the effort to get there and a warm welcome awaits all in the impressive looking bar and social area and the food is excellent! Accommodation is in dorms with shared ablution or reed and thatch huts sharing one en-suite bathroom between 2 huts, and there is plenty of space for camping. Surf boards are available for hire and you may be lucky enough to pick up some instruction, but if not try the Waterworks Cafe in Tofo for surfing lessons. Accommodation & facilities at Turtle Cove are rustic but there are hot water showers and cold beer in the fridge... enough said. Click here for information on Turtle Cove

Turtle Cove Reservations: turtleCove@mozbookings.com

Visited this hotel? Add your comments click here for feedback form
Mango Beach Lodge Tofo Mozambique Selfcatering Cabana Hut Casa

Tucked among the dunes overlooking Tofo each offers great value accommodation with a friendly family atmosphere - be warned most people spend longer here than they planned! Click here for more information about Mango Beach

NB. 4wd only or will collect from Tofo

Visited this hotel? Add your comments click here for feedback form
Casa Algodoal Tofo Mozambique Selfcatering

Nestled along the turquoise waters of Mozambique in Inhambane province, the quaint beach town of Tofo is an adventurous and yet relaxing holiday spot. It is rapidly becoming popular with travelers from around the world, and is also well known amongst divers and surfers. Diving highlights include the famous Manta Reef and snorkeling with Whale Sharks all year round. Click here for more information Casa Algodoal

Visited this hotel? Add your comments click here for feedback form

Casa Algodoal Price Guide: 2 persons: From 70 to 80 Euros, 4 persons: From 130 to 150 Euros, 6 persons: From 150 to 173 Euros

Casa Algodoal Reservations
Fatimas Tofo Beach Mozambique

Fatimas Photo Gallery

This backpackers has the same owner as Fatima's in Maputo and has a good location directly on the beach in central Tofo with laid back feel, although outrageous parties are not unknown! Free pickups are available from Inhambane. Accommodation is in basic dorms with a few small rooms also available. There is also a large campsite for you to pitch and a basic communal kitchen.Click here for more information Fatimas

Visited this hotel? Add your comments click here for feedback form

Facilities at Fatimas Nest: Restaurant, Bar

See: "Activities in Tofo "

Reservations: fatimas@mozbookings.com
Tofo is a lovely quiet village with a relaxed atmosphere, beautiful beaches, great surf and excellent dive sites, it is easy to spend more time here than planned.
Tofo is linked by tar road to Inhambane while Barra peninsula is not far away. In the centre of Tofo is a busy market place selling basics and souvenirs and Tofo has a couple of restaurants, a surfers café, two excellent Padi Dive centres: Tofo Scuba and Diversity Scuba both offering daily diving trips out to the many reefs off Tofo - where you can regularly spot Manta rays and you can also snorkel with Whalesharks.
From July to October Humpback whales with their young pass by and can be spotted from the shore at Tofo point and Tofinho.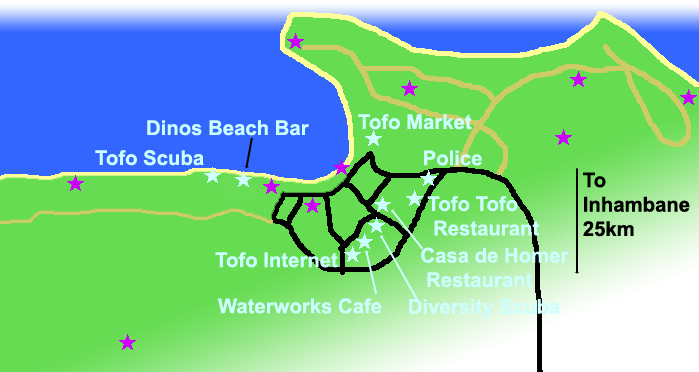 Email for Reservations: info@mozbookings.com
Tofo Activities

The following activities are available in Tofo and can be arranged by all the lodges and holiday resorts in the area.

Scuba Diving
Snorkelling
Sailing
Horse Riding
Whale Watching (in season)
Cultural Quad Trails
Ocean Safaris
Fishing

Getting To Tofo:

Driving Distances from:

Jo'burg: 1075km
Kruger National Park
(Croc' Bridge Gate): 600km
Komatipoort Border: 590km
Maputo: 500km
Inhambane: 25km
Vilanculos: 310km
Beach: 200m

Flights to Inhambane are available from Johannesburg:
are available on Mondays, Wednesdays and Fridays.

Flights to Inhambane from Maputo:
are available from on Mondays, Wednesdays and Fridays.