Email Lugenda Reservations: book@go.mozbookings.com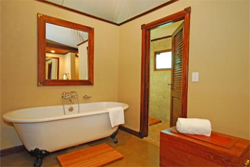 A safari to this area is to go where few have travelled. It is not a safari for first-timers only interested in seeing the Big 5, it is a journey of discovery for safari pioneers to an emerging photographic safari destination.

Lugenda Wilderness Camp provides visitors with the true quality of wilderness that is rare to find on safari today. Located in the greater Niassa National Reserve in the remotest corner of northern Mozambique, Lugenda Wilderness Camp is set in one of the continent's 'last wild places'. This is the description given to the Niassa Reserve by Mike Fay, World Conservation Society conservationist during his year-long MegaFlyover across Africa.

On walks and game drives guests experience raw Africa at its wildest, but within the confines of camp guests are cosseted and pampered. Stylish tents, a scenic swimming pool, fascinating guides, shady guest areas and views over the river will keep you content to remain in camp for hours and hours.

Safari Accommodation
Lugenda Wilderness Camp offers the ultimate pioneering safari amidst an Africa still wild and untrammeled. Nestled along the eastern bank of the Lugenda River, this elegant and intimate camp accommodates just 16 people in luxurious east-African styled tents.

Lugenda's collection of fine wines meets the most discerning tastes whilst our guides reveal some fascinating insights into the region's history and geography. With all your senses engaged, you cannot help but be sated by this indulgent Mozambique safari experience.
Mozambique Safari - Niassa National Reserve
Our guides will take you out by open vehicle to explore the Niassa National Reserve of Mozambique for as long as you wish each day. Bird lovers will revel in the opportunity to spot up to 370 bird species, including the rare Angola Pitta and Pel's Fishing Owl, as well as abundant raptors.

The area is home to at least 3 recently discovered endemic species: the Niassa Wildebeest, Boehm's Zebra and Johnston's Impala; as well as elephant, Sable Antelope, Cape Buffalo, Lichtenstein's Hartebeest and eland occur here. Niassa also provides one of the last safe havens in Africa for the Cape Hunting Dog (African Wild Dog) and is populated with other predators such as lion, leopard and Spotted Hyena. General game comprises kudu, bushbuck, impala, wildebeest, waterbuck, reedbuck and hippo. Bear in mind though that the area is vast and big game sightings are not guaranteed.
For those who prefer more intimate encounters with the Mozambique bush, our guides will take you out walking in the early mornings or late afternoons to avoid the midday sun. Here you can explore the smaller flora and fauna and really absorb the sights, sounds and many hidden delights of the Niassa bush.