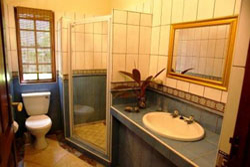 Layout and Facilities all bedrooms have:
Air-conditioning
En-suite bathrooms with a shower or bath
Ample cupboard space
Bed linen and bath towels
Mosquito nets for each bed
Selected upstairs bedrooms have personal balconies.

Activities
Boating Fun on the Ocean and Islands
Limitless opportunities await those who are prepared to head out into the oceans by boat or traditional dhow... from game fishing for a myriad of year round and seasonal catches, to island-hopping and idyllic picnics on sandy beaches, there are so many things to do without actually getting your feet wet!
Diving in Bazaruto
There are over 2 000 fish species, 100 hard and 27 soft coral species among the Bazaruto Archipelago which makes this a scuba diving and snorkelling paradise, not to mention the crystal clear and warm tropical waters. An underwater adventure not to be missed!
Beach and Town
If you're taking a break from the open ocean and just want to spend some time on terra firma, Vila Do Paraiso offers a range of pursuits for landlubbers from horseriding to massage and curio shopping.
Quick Facts:
• 6x8 sleeper luxury beachfront villas on resort
• Self-catering and fully catered options offered
• New restaurant and bar with pool on beach
• House butler and plunge pool in each villa.
• Fishing, diving and island trips offered
• Price is per villa, not individual guests
ROAD DIRECTIONS TO VILA DO PARAISO:
Be careful for pedestrians, cyclists who have a tendency to cross roads without checking for traffic.
From the main highway you turn (from Maputo) RIGHT or (from Chimoio) LEFT at Pambarra. This road + - 15 kms takes you past the fresh water lakes and eventually into Vilanculos town.
Just keep going – you will pass Vilanculos Madeira on the left, the soccer field on the right. At the end of the road you come to a T junction. In front of you to the right is Barclays Bank and to the left is BCI bank.
Turn LEFT at the T junction and keep going for ages. You will pass the Deli shop on your right and then Pescador restaurant on the left. Shortly after that you will see a large complex /shopping centre on your left and Taurus supermarket is opposite on the right. After/at the end of the complex take the first road left (in front of Millennium Bank)

Turn down there and keep on going - you go up a slight rise and over some silly speed humps - you will pass Casa Rex on your right.
Route A: Just after the huge cell phone tower (on the left) you then need to look out for signs on your right - there are 2 white signs – one is Vila la Mar and Vila do Paraiso is next to it. Turn right into that (sand) road and follow round. Be careful when you come to the bend in the road - it is quite sandy and if you are going slowly you are quite likely to get stuck in the sand. Just keep going - you will pass amongst others - Aqua Negro, Vila la Mar, a double story house and then on the right Vila do Paraiso
Route B: After the sign above carry on 0.6 kms on the tar road, past Complexo Shelsio, sign for Big Blue (left side) you will see another Vila do Paraiso sign on the right with an orange reflector arrow. This road is very narrow so you will have to move slightly to the left and take a wide turn. At the end of the short dirt road turn right and then left into Vila do Paraiso gates.

Map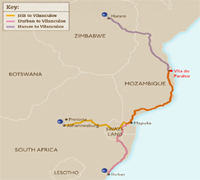 Languages in Mozambique
Much of the population speak their own tribal language. There are 17 languages spoken in Mozambique, the primary ones being:
South: Shangaan, Tswa and Ronga. Central: Sena, Shona and Nyanja. North: Chuabo, Lomwe, Makonde, Makua and Yao.
English: Some English is spoken but this is mainly confined to the southern areas where many tourists vacation. Portuguese is the official language and most widely understood.

Climate
Vilanculos is in the tropics. Therefore Summer in Mozambique extends from October through to April where temperatures range from 25-40 degrees celsius. Summer is hot, rainy and humid so don't forget those umbrellas. Most of the heavy rain occurs from January to March. Winter extends from April to September. Winter is dry and mild and temperatures range from 18-30 degrees celsius.

History
1960's to 1980's: Independence and Civil war
The aspirations of the Black Mozambicans to rule themselves without having to become "Black Europeans" was not met, causing increasing dissatisfaction amongst them. The desire for Mozambican independence gained pace, and in 1962 an assortment of anti-colonial political groups, under the leadership of Dr Eduardo Mondlane (educated in America) formed the "Frente de Libertacao de Mozambique" (FRELIMO) on 25 June 1962. Frelimo, based in Tanzania, began an armed campaign against Portuguese colonial rule in September 1964 and was soon in control of large parts of Northern Mozambique.
Dissension within Frelimo led to breakaway groups forming "Comite Revolucionario de Mozambique" (Coremo). In 1964 Mondlane was killed by a letter bomb in his offices in Dar es Salaam and in February 1969 Samora Machel took over as leader of Frelimo. Ongoing guerilla wars began sapping Portugal's ability to maintain these costly wars. Following the 25 April 1974 coup in Lisbon, President Caetano fled to Brazil and a military junta under Gen. Antonio de Spinola became the government and Portuguese colonialism collapsed. This resulted in a peace agreement in Mozambique on 7 September 1974 and the installation of a provisional government. Frelimo's Joaquim Chissano was installed as prime minister of Mozambique. Racial clashes occurred and resulted in a mass exodus of Portuguese citizens contributing to a major collapse of the economic infrastructure of Mozambique.
Corruption, wrecked infrastructure, nationalization and economic mismanagement resulted in Mozambique becoming one of the world's poorest countries during this period. During most of the civil war, the government was virtually powerless to control Mozambique outside of urban areas, many of which were cut off from the capital. An estimated 1 million Mozambicans were killed during the civil war, 1.7 million fled as refugees to neighboring states, and several million more were displaced internally. President Samora Machel conceded the failure of socialism during the third FRELIMO party congress in 1983, as well as the urgent need for major political and economic reforms. This he set out to attempt but on October 1986, Machel was killed, with some advisers, in a suspicious plane crash, close to the Mozambique border inside South Africa. Joaquim Chissano became president in his place.

1990's to Present: Peace and Reconstruction
The collapse of the Soviet Union, Frelimo's strongest ally, as well as the un- banning of the ANC in South Africa led to peace talks being resumed in Mozambique in 1991.This resulted in an adoption of a new constitution and the beginning of peace negotiations between Frelimo and Renamo and the ending of one party rule in Mozambique in 1990. The word "People's" was eliminated from the country's name and Mozambique started on a long programme of recovery of its economy and infrastructure. The deadly threat of landmines sown in rural areas during the civil war and their removal is a Herculean task, as well as being very costly in both human casualties and money.
Email Vila do Paraiso Lodge Reservations: vilanculos@go.mozbookings.com