Email Palmeiras reservations: vilanculos@go.mozbookings.com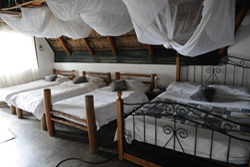 Palmeiras Lodge is situated in the village of Vilanculos, no more than 20 metres from the beach.
The Lodge offers two types of accommodation. B&B chalets or a Back-Packer Dormitories. The accommodation is set in exotic tropical gardens with a large swimming pool and is within walking distance to numerous local restaurants and bars.
Palmeiras Lodge is a quiet beach lodge situated right on the beach front, overlooking the Indian Ocean, in the town of Vilankulos.
Vilankulos is the gateway to the romantic Bazaruto Archipelago, with its white sand beaches, crystal blue seas and stunning marine park. It has recently been rediscovered by holiday makers all over the world.
The town is a bustling place with a lively amosphere and friendly people. Basic supplies are available in the shops. There is also a market selling fresh produce, petrol stations and telephones, plus a number of restaurants serving delicious sea food.

Directions
Vilankulos is 750km north of Maputo and it is easily accessible by 2 wheel drive car on tar roads or by air. The international airport has flights arriving three times a week from Johannesburg and from Maputo.