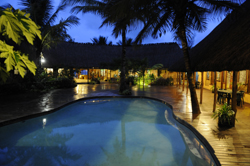 In the same area, are 3 self catering chalets, sleeping 8, 6 or 4. Each chalet has its own toilet with hot and cold showers.
Just recently opened are the 10 beautiful, waters edge, stilted lodge chalets. Positioned on the estuary, next to the main lodge buildings.
The Dive Centre launches from inside the estuary and enter the ocean through the estuary mouth,
Pomene Lodge is fully equipped with electricity, (generators) and fresh drinking, borehole water.
The main lodge complex consists of:
* Reception and Bookings area
* A shop for basic essentials and curios
* A TV and games room
* Both indoor and open deck restaurant
* A fully equipped Bar
* Large fresh water swimming pool
The restaurants, bar and swimming pool have a beautiful view over the estuary.
An ideal location to relax during the usually hot and humid days of Mozambique and admire the beautiful evening sunsets.
The 10 waters edge chalets are a new development at Pomene Lodge, with a further 20 to be constructed soon.
Based on the design from their sister lodge, Flamingo Bay in Inhambane, these chalets offer cool luxurious comfort to couples visiting Pomene Lodge.
These chalets are the ideal accommodation for visitors wishing to fly into Pomene for a few relaxing days.
Each room has a large double bed with mosquito net and fan. The stylish bathrooms each have showers with hot and cold water.
The large balcony, overlooking the estuary, faces the setting sun and has steps leading down into the warm waters.
Because the estuary is tidal, half of the day has a sandy beach in front of your chalet and half a day of calm lapping water beneath you.
These Waterside Chalets are perfect for honeymooners and couples.
A hearty breakfast, lunch and dinner is served to lodge guests in the dining room or on the deck overlooking the estuary.
Bookings by campers and self catering guests are very welcome.
Between meals the large wooden deck around the pool is the perfect place to relax and order a round of ice cold drinks.
The bar is also a natural gathering point to meet and share the days experiences.
But Pomene lodge is not just about facilities and infrastructure. It's really about being on holiday and enjoying the magnificent setting. The lodge environment puts people at easy quickly and effortlessly.
People greet you and smile with no effort at all. The staff are friendly and always helpful and it becomes easy to forget that you are sitting in one of the remotest parts of Mozambique.
Rates:
Water Chalets (Dinner Bed and Breakfast): Low Season R880 to R1030 per person per night, High Season R 900 to R1140 per person per night. Self Catering Cottages (4-8 Sleepers): Low Season R1000 to R1600 per unit, High Season R 1020 to R1630.
Email Pomene lodge: book@go.mozbookings.com