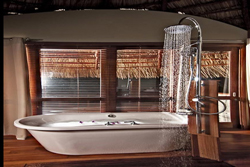 Leisure & Dive Centre includes:
•Reception
•Bar with satellite TV
•Lounge with satellite TV
•Dive Pool & deck
•Pool & games Room
Services:
•Power supplied daily by generator from 06h00 – 22h00
•Standard South African power points – 3 prong round plugs
•Special occasion beach picnics and in room dining
•Rooms fully serviced including evening turndown
Note:
•No credit card facilities at Massinga Beach. Moz Meticais, SA Rand and US Dollars are accepted.
•No cell phone signal at the Lodge but contact is possible through the Administration office located nearby
Leisure:
•Board games; table tennis; darts; pool table; DSTV; DVD selection
•Beach games & walks
•Body Massage and relaxation therapy in the privacy of the bedroom deck
•Stargazing – telescope is provided on the Leisure Centre dec
•Quad bikes off-site through 100ha estate
•Day tours to historic city of Inhambane
•Swimming in the warm Indian Ocean (unprotected but shallow and little backwash)
•Surfing (bring your own surfboard)
•Kayaking
•Snorkelling (Duration 1 – 1 ½ hours)
Includes snorkeling kit, drinking water, cashew nuts and coconut.

•Sea safari (Duration 2 ½ to 3 hours)
Offered all year round. The boat is a super duck; easy to get on and off. Possible sightings include whales, whale shark, dolphins and manta rays, depending on the season. After the safari, a stop-off with a snorkel with guide is offered.
Sightings include:
Whale Sharks - Generally all year round, but mainly in summer.
Turtles - Hawks Beak, Green and Logger Head. All year round. Lay eggs in November & December with hatchlings coming out in March to April.
Humpback Whales -Heading North with calves to feed in the nutrient rich Mozambique Channel around October and head South in May/June.
Manta's - All year round, but also mainly summer months.

•PADI registered Scuba diving.
Diving is offered off numerous reefs featuring soft and hard corals including Sylvia Shoal, New Year's and Tokyo D frequented by rays, sharks, turtles, and game fish.
Temperature: Summer 26-30 degrees Winter 20-23 degrees
Visibility: Average 10-15m, but can be as good as 30m.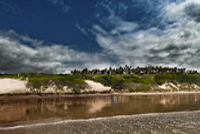 Diving:
Sylvia Shoal
20 minutes north by boat, a 14km reef system ranging from 10m to 25m at its maximum depth. An abundance of reef fish, hard and soft corals, many game fish, a vast variety of Nudibranchs as well as the beautiful Djibouti Giants and Spanish Dancers. Also, turtles, mantas, eels, sharks the endless list ensures every second of the diving in this area is truly fantastic.
New York City
A long ridge that runs in a SW to NE direction. The top of the ridge sits at a depth of 12-15m with a max depth of 25m. This area is full of soft corals for the first 15m and in deeper sections there is whip and green tree corals. Lots of schools of reef fish.
Pilgores Arch
A very easy and interesting dive. Max depth of 12m with plenty of swim through's, coral gardens, anemones and reef fish
Sherwood North and South
A deep dive to a max depth of 32m. A central ridge running North to South with lots of green tree corals. Large schools of Big eye kingfish, giant groupers and crayfish, turtles and white tip reef sharks.
New Years Reef
Another ridge running SW to NE and the top of the ridge is 10m dropping to 25m on the sides. An abundance of soft and hard coral, Turtles, sharks, moray eels and different rays.
Aladdin South
A shallower section of Sylvia's reef. The top sits at 8m with it dropping to 20m on the outside. Heaps of table corals, anemones and soft corals. Full of crevices that have crayfish and all types of eels as well as small groupers and turtles and often, dolphins.
Cameron Rock
A great dive for beginners to a max depth 14m. The reef is full of giant clams and anemones. Sweepers, damselfish and crocodile fish.
Cameron Reef
Perfect for training dives. Top of the reef is 5m dropping to 12m on the sand. Contains coral gardens and it is a nursery for juvenile fish.
Turtle Cove
Consists mainly of sandy channels amongst ocean floor bed rock. The top sits at 7m dropping to 12m with overhangs and lots of sting rays. Also great for training.
Nigels Aquarium
The most southerly part of Sylvia's shoal and another ridge that runs SW to NE. Top of the reefs sits at 12m, dropping to 25m. Huge schools of Surgeons, kingfish, fusiliers and snappers all hunting on the edges. Moray eels, nudibranchs, Spanish dancers, white tip sharks, turtles and manta's.
Ray Alley
Another section of Sylvia's Shoal. The top sits at 10m and drops of to 25m. Manta rays, job fish, kingfish, turtles, moray eels, cleaner wrasses and shrimps.
Rainbow Reef
Middle part of Sylvia Shoal and a ridge running SW to NE. The top sits at 12m dropping to 25m. Schools of Fusiliers, surgeon and kingfish, rays, crayfish, nudibranchs, turtles and sharks (mainly white tips)
Anemone City
Top of the reef sits at 8m, max depth 25m on the sides. Soft corals, sponges and green tree corals, also lots of sweepers and glassfish. With cleaning stations for moray eels and groupers; Durban dancing and boxer cleaner shrimps; Turtles and often leafy scorpion fish.
Aladdin Central
In the centre of Sylvia Shoal has a flat top at 6m. Table corals and huge crevices which are home to moray eels, groupers, rays and white tip reef sharks.
Tokyo Drift
16.5 kms out in the ocean so, warmer and clearer waters of the Mozambique Channel. An amazing dive for all big game fish, sharks, large rays and the smaller reef fish.
•PADI registered diving courses ranging from beginner to advanced.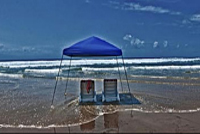 Dive Master
Bubble maker (8-10yr olds)
Discover Scuba
Scuba Diver
Open Water
Advanced Diver
Specialties
Holidays are about doing as little or as much as your heart desires, Massinga Beach obliges.
A leisurely stroll to your concealed picnic spot along the unspoiled beach; in season you may spot whales in the distance from the raised decks whilst being served your favourite cocktail.
At night the wonders at the galaxy will enthral you.
For the more energetic; hike through the sprawling palm groves, take the quad bikes on a trail; enjoy the thrill of fishing or diving nearby; get involved in the local community school project.
Photographic opportunities abound.
The well appointed facilities are complimented by friendly attentive service and truly scrumptious cuisine. Fresh coconut cocktails and local seafood are prepared and served with a friendly Mozambican flair.
Massinga Beach is accessible by self-drive, 568 kilometers north of Maputo or LAM Mozambique Airlines flying between OR Tambo and Inhambane. The Lodge offers air conditioned transfers from Inhambane Airport to the town of Massinga and Lodge 13kms off the main road.
Email for Reservations: book@go.mozbookings.com