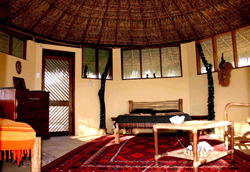 Accommodation
Accommodation is nestled between isolated white sandy beaches and the un-spoilt rustic beauty of the bush. Beach front comfortable chalets, safari tents, classic rustic backpackers and luxury bush camping, are located in a safe and quiet environment with a package of free activities included in the price.

Chalets
The comfortable beach front Chalets are spacious and private, with a rustic traditional design. Optional is en suite outdoor and indoor with toilet and showers. Eco-friendly program supplies Solar energy for lights, fans, laptops, and cell phones (using S.A. two and three pin plugs). Plenty of air circulation and fans are included. Mosquito nets are available on request.
Backpackers
Classic Backpackers, Safari Tents & luxury Camping have two sets of outside ablution blocks in the main Camp and Beach Camp. There is also a shower and changing room on the beach. Laundry facilities are available.
The self-catering area has two fully equipped communal kitchens at the Main Camp and a Barbeque on the beach. Budget catering with a shop at main camp supplying basic groceries and also curios. A restaurant service is supplied without a restaurant; do order your meals in advance, it will be prepared and served at the Barbeque on the beach.
Activities
Secluded Beach
Nature Walks & Jogging Trails
Scuba Diving
Dive School
Dive Sights
Conservation
Fishing
Motorised Raft or Kayak
Mud Bath
Archery
Knee Boarding
Bird Watching
Night Life
Snorkelling
Kayaking
Wakeboarding

Free activities include kayaking through the mangroves, archery, axe throwing, snorkeling, bird watching, nature walks, wall climbing baobab, jogging trails, volleyball, trampoline, tree house and Mud bath - with plenty more to discover!
Transport is available.

Pricing
Family Chalet Toilet & Shower en suite (4 Sleeper): US$ 160 per night
Couples Chalet Toilet & Shower en suite (2 Sleeper): US$ 100 per night
Bamboo Units Outdoor Toilet & Shower (2 Sleeper): US$ 20 per night
Safari Tent Outdoor Toilet & Shower (2 Sleeper): US$ 20 per night
Camping: US$ 10 per night
Email Pemba Dive and Bush Camp Reservations: book@go.mozbookings.com