Email Londo Lodge Reservations: book@go.mozbookings.com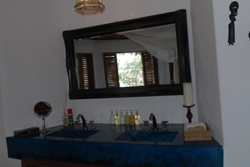 Welcome to Londo Lodge, an exclusive beach and bush resort north of Pemba, Mozambique. Set on a peninsula surrounded by blue Indian Ocean waters and East Africa's finest beaches, this private boutique resort is hidden amidst lush virgin African baobab bush and abundant coral reefs.

Londo Lodge has only six luxury villas to guarantee full exclusivity and privacy. Breathtaking sunset views over the Pemba bay area, delicious seafood, superb diving, immaculate service and true romance - experience the ultimate.
The Resort
Londo Lodge is a private boutique hotel in northern Mozambique with a bush and beach treat; abundant coral reefs and ancient baobab trees meet on the Londo Lodge peninsula.

With only 6 spacious, octagon villas with ocean-view guarantee complete luxury and privacy. Facilities include a private beach and mangrove beach-bar, eclectic restaurant, cliff edge swimming pool and spa, library and a cigar bar. A unique retreat of luxury in authentic Africa.

Accommodation
At Londo Lodge accommodation is an amazing combination of modern luxury with traditional building. Each ocean-view villa is built on a 7 meter high cliff overlooking the majestic Pemba bay. Octagon shaped, 75m 2 large, outside teak decking, louvered 3 meter wide doors and traditional bamboo and thatch roofing, spacious is an understatement.

All villas are fitted with handmade UK mattresses, Belgian bed linen, in and outdoor bathrooms, handmade chrome taps and showers, draped mosquito nets and a/c units. Eclectic in design, the villas have a delicate look and feel where Moroccan art blends in with traditional Maconde woodcraft and Victorian mirrors.