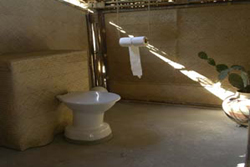 Accommodation
We offer 3 types of accommodation; Adobe Bandas, Family Banda and Zala Suite. The spacious tented bandas at Guludo Beach Lodge give panoramic views through the netted walls, creating a feeling of being outside while inside. Raised bedrooms sit under an expansive palm-thatched roof, opening upwards and outwards to make the most of the stunning sea views and cooling sea breeze. Each of the nine tented-bandas at Guludo have a quirky alfresco marbled bathroom.

Activities
Quirimbas Archipelago Scuba Diving
Guludo Beach Lodge Guludo is perfectly positioned to dive some of the best, and most pristine, coral reefs in the world. Opposite Guludo's calm bay is the Quirimbas Archipelago's fringing reef with breath-taking coral diversity as well as copious schools of game fish, turtles, sharks and, at the right time of year, humpback whales.

Elephant Lookout
This viewpoint is one of the very few places possible to view elephants during the day. Also, here you are likely to see antelopes, primates, warthogs and, if youre lucky, some of the large cats.

Mangrove Paddle Tour
Paddle through the mystic mangrove forests South of Guludo are expansive mangrove forests with endless channels disappearing deep into the forest where birds, crabs and primates live in a peaceful, tidal wonderland.

Sunset Dhow Sail
Go for a sunset sail on our famous tradtional dhow, Mustajabo, made by hand in Guludo village.

About Guludo
Our idea was to create an innovative and sustainable model to relieve poverty and protect the environment. The result was Guludo Beach Lodge and its associated charity, Nema Foundation.

Donating 5% of its income to the charity, the lodge maximises the benefits to the local area whilst the charity, Nema Foundation implements a wide array of community and conservation projects. Although in its infancy, this model has since become an award-winning and internationally applauded strategy for addressing extreme rural poverty and environmental degradation. Guludo is part of a larger model set up to relieve poverty and protect the environment.
The Power of a Dream
Guludo was set up by Amy and Neal Carter-James, a young English couple who passionately believed that a quality tourism product could be a powerful tool to enable poor, rural communities to work their way out of poverty. Mozambique was the chosen as the location, despite neither of them having previously been, simply because of it's fantastic tourism potential alongside extreme rural poverty; a place they believe they could have maximum impact and bring most benefits.

The dream started to be realised in late 2002 during a moonlit community meeting in Guludo village, when their response to our question "would you like to work with us to realise this dream" was a resounding "yes, when can you start?" Now, the dream really has been realised, although there is still plenty of work to be done. The journey so far certainly has been eventful to say the least. If you're ever in Guludo with Neal and Amy you may hear some of the unbelievable adventures that have led to the success of Guludo Beach Lodge.
The Future
Inspired by the people living in the Guludo area, Guludo Beach Lodge is just the beginning. Like many entrepreneurs, ideas are always abound and you never quite know what's just around the corner in their quest of using business to relieve poverty...

The Foundation
Nema Foundation was established by the owners of Guludo Beach Lodge to work in the areas around the lodge to achieve their charitable goals.
Nema currently works with 12 communities around Guludo, approximately 15,000 people. Some of Nema's current activities and achievements thus far include; feeding 500 children one nutritious school meal every day,providing clean water for over 12,000 people from 29 water points, providing over 4,400 mosquito nets to mothers of young children and Currently funding 79 Secondary School Scholars.

Email Guludo Beach Lodge Reservations: book@go.mozbookings.com