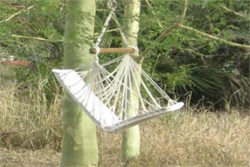 Accommodation
Our Camps
Our authentic and utterly unique Explore Gorongosa safari experience is based from an exclusive seasonal tented eco-camp and a series of light wilderness fly-camps... Although the trend these days is for safari camps to provide seventeen imported Mongolian cotton facecloths per person, delicately soaked in endangered highland yak milk and served chilled with a skinny moccachino presented in Italian marble coffee cups with gold inlay... we at Explore Gorongosa like to think it is more the experience that counts and that, like the wrapper around a yummy Swiss chocolate, the camp is simply the outer layer which keeps the whole thing together.
Mixed metaphor's aside, our personal, friendly and conscientious approach to the authentic African safari experience means we prefer to focus on what our guests get to feel, see, learn and do, then on the labels on our frilly bits. The Explore Gorongosa experience is hosted from our exclusive seasonal tented bush camp - known to the inner circle as Explorers, or just "Our Camp" - situated in a beautiful private operational area within the Gorongosa National Park.

We can also take you out for a night or two at our light wilderness fly-camps, the Gorongosa SkyBeds, which we set up at a few stunning sites in and around the Park such as at the Murombodzi waterfalls and on top of Mount Gorongosa. Whichever way you end up spending the night, you are of course looked after in the wide-open embrace of our great team of Mozambican camp hands, with suitable reinforcements provided by our camp host and our professional safari guide.
Explorers Camp
Featuring a handful of spacious and quirky tented suites, Explorers is not your average bush camp. In fact, we hope you'll treat it as your home away from home, as long as you don't associate televisions, telephones, newspapers, recessions, screaming kids, broken pool pumps, high power bills, and the neighbour's annoying yapping dog with home! No, Explorers is a simple place, a gentle haven of peace and space; a place based on our keep-it-supremely-friendly-and-simple recipe.
Each suite has an alfresco 'en tent' bathroom comprising an eco-innovative waterless loo and a fantastic wash-in-the-wild shower designed to give you privacy and a feeling of freedom all at the same time. Enormous king-size doubles or extra-length twin single beds are available with snug down duvets and cotton linen and towels of highest quality. One of our main aims in the design of the camp was to have as much of it home-made as possible, with much of it being sourced from the region. Apart from the odd bit here and there, we like to think we have achieved this, right down to Mrs Janisch's home-made plum jam which, on a loaf of freshly baked pot-bread, goes down faster than a homesick mole.
The eating, chillaxing and social area of the camp features an open-air library and lounge, as well as a spacious canvas mess tent for general...er...mess, when the weather is not too friendly. Dining takes place pretty much anywhere it is requested with the focus on excellent taste and even better company. If one wishes to get away from the high energy pursuits of lounging, dining, sleeping or abluting, there are hammocks to swing in, trees to climb, and a campfire to muse over... all in all, Explorers is an experience within an experience. And that's the way we intend to keep it.
Gorongosa SkyBeds
If you have the time and inclination, three, four, seven or seventeen nights at our camp works quite well with a night out and about using a light fly-camp sited on secret big-tree-covered spots around our exclusive operating area within the Park and elsewhere in the region. This fly-camp - the Gorongosa SkyBeds - is set up in keeping with the pioneering camps of old, providing very light yet comfortable temporary accommodation whilst the camp's inhabitants busy themselves messing about in the bush. The basics of great food, cold drinks and hot showers are taken care of by our excellent team.
The "rooms" are actually simple mosquito-gauze bow tents housing a snug bed complete with down duvet and cotton linen. The ablutions are a shared hot bucket shower and a waterless eco-loo, and the dining and lounge area comprises a campfire with some comfy stools scattered around it... But as quickly as you can say paradise, you're lying in bed in the middle of a sweeping floodplain, under a canopy of stars, with only a thin layer of gauze and canvas between you and... well, heaven really.
When camping on the summit of the Gorongosa Mountain, the Gorongosa SkyBeds are tailored to suit wet weather through the application of a light trekking bow tent.
Closed until further notice



Email for Reservations: book@go.mozbookings.com
Getting There
Getting to Gorongosa has become easier than trying to spell it! Here are some important details to help you find your way to Gorongosa National Park. The great news is that our friends at CFA Charters are now flying scheduled return flights twice weekly (Monday and Friday - 1h25 flight time over beautiful Mozambican coastline) directly from Bazaruto Island (Vilanculos) to the landing strip at Gorongosa National Park (Chitengo - about 20 minutes from our camp). Added to this, Airlink fly direct flights from Johannesburg (OR Tambo International) to Beira every day of the week – only 1 hour 25 minutes in a leather-seated Embraer jet with departure times out of JHB mid-morning to link up perfectly with overnight long-haul flights into JHB.

Getting to us by Air
Gorongosa National Park has its own airstrip for light aircraft at Chitengo Camp with fly-in access from Beira, Chimoio and Vilanculos (and the surrounding Bazaruto archipelago resorts). Scheduled flights to Beira from Johannesburg, Harare and Maputo can be booked with either LAM or Airlink. Regular schedule flights to Chimoio from Maputo can be booked through LAM, and frequent scheduled flights to Vilanculos from Johannesburg (and back via Kruger-Mpumulanga) are available through Pelican Air.
Charter flights into Gorongosa National Park (Chitengo airstrip)
As mentioned above, we soon will have scheduled charters directly into the Park from Bazaruto Island and Maputo. These flights leave Bazaruto Island on Monday and Friday mornings and head up the scenic coastline to Gorongosa – a flight time of about 1h25 from Bazaruto to Gorongosa. The flights then return the same way. Non-scheduled charter flights to Chitengo airstrip will depart within 30 minutes of you clearing customs and immigration at either Vilanculos, Beira or Chimoio international airports.

However if you arrive in Vilanculos after 14h00 or Beira and Chimoio after 15h00, you will probably need to overnight in those towns and be transferred the next morning, unless you are willing to pay a fee for the plane overnighting in the Park You can fly to Beira and Chimoio from Maputo via LAM - Mozambique's national airline. You can also fly to Beira from Johannesburg with Airlink (part of South African Airways).

Please be aware that Mozambique has recently adopted a policy of enforcing Yellow-Fever vaccinations for those travellers originating from known Yellow-Fever countries. This should not affect most of our guests but is worth bearing in mind if your trip includes countries such as Tanzania or those in central Africa. Please check with your tour operator or agent before travelling. Alternatively, you will be kindly offered a rather painless jab in the airport in Beira - but this can be a hindrance so best check beforehand!

LAM fly from Maputo to Durban and Johannesburg, as well as via Harare to Nairobi and Lilongwe (on code-share with Kenya Airlines). SA Express also fly from Maputo to Cape Town direct twice a week. TAP fly direct to and from Maputo out of Lisbon, Portugal, whilst Johannesburg, Durban and Cape Town are well serviced by international airlines.
Estimated flying times
From Vilanculos/Bazaruto to Chitengo: approximately 60-75 minutes, depending on airplane type.
From Beira to Chitengo: approximately 35 minutes, depending on airplane type.
From Chimoio to Chitengo: approximately 20 minutes, depending on airplane type.

Please be aware that due to the limited space in the small aircraft used as charter flights into Chitengo, we ask you to please restrict your luggage to a maximum of 12kg per person, in soft luggage carriers. Failure to restrict luggage will result either in delayed luggage arrival or additional costs.

Getting to us by Road
Gorongosa National Park is easily accessible by road off the newly completed tarred national highway - the EN1 - which is the main north-south road running the length of Mozambique. The turn-off for the Park is approximately 30 kilometres north of Inchope, which is a small village at the junction of the EN1 and the main Beira-Mutare road, and the last stop for fuel before the Park.

From the well signed turn-off from the EN1, it is a short 11 kilometre stretch of good gravel road to the main Park gate where Park entry fees are payable (200 MTN per person and 200 MTN per vehicle). From here it is a scenic 18 kilometres of very good gravel to Chitengo Camp (half an hour approximately) where you will be met by your guide at the Chitengo Camp reception. The Park is accessible by most high-clearance vehicles.
Park Facilities and Activities
The Park has a long history of providing an incredible setting for photographic safaris in Mozambique. Despite over two decades of conflict, much of Gorongosa's infrastructure remains. The Park's original headquarters in the south - Chitengo Camp - is also a public rest camp, comprising 18 comfortable air-conditioned cabanas as well as a shady public campsite and Chikalango, Chitengo's new and improved restaurant serving breakfasts, lunches, and dinners. There is a swimming pool in the camp - a welcome addition on hot summer's days! - and the camp is currently able to host conferences for up to 40 delegates. Currently, Chitengo offers guided game-drives and village visits although a series of fresh new activity offerings are in the pipeline.
Seasons
The weather at Gorongosa is - like the Park as a whole - something of a mystery. There is officially a wet season and a dry season, the longer latter season encompassing the bulk of the year from May through to mid-December, with the Park closed to all from late-December to late-February. However, as we are discovering this year, these seasons are not entirely rigid and fluctuate somewhat such that you can have rain in July and dry cold spells in February.
Closed until further notice





Flora and Fauna
Gorongosa National Park is home to a great diversity of animals and plants, some of which are found nowhere else in the world. From the lumbering African elephant to the endemic Green-Headed Oriole; from the famed Gorongosa lions to the rarely seen fire squirrels of the rainforest, each species has a story to tell. Soon you will be able to browse through lists of hundreds of species, to learn more about the smallest insects to the largest mammals found in Gorongosa.
Ecology
The ecology and history of the Park is fascinating, and provides an insight into the more complex socio-ecological aspects of Mozambique as a whole. Gorongosa National Park protects a diverse ecosystem that is defined by the life-giving rivers and underground aquifers that flow into the valley. The heart of Gorongosa, Lake Urema is an incredible natural phenomenon that is fed from nutrient-rich aquifers filtering down from hundreds of kilometers away.

These bountiful water sources provide the ideal habitat for a multitide of wildlife, some found only in this region. Moreover, the ecology of Gorongosa is unique in that the vegetation varies from open grassy floodplains, through fever tree forests, palm thickets and mixed woodland, to Albida forests, Miombo-lined ridges, oxbow lakes and seaonal sodic pans.

There are deep, bat-filled caverns and gaping limestone gorges; cascading waterfalls set in threatened cloud forest, and baobab-dotted broadleaf. As part of the ever-expanding Rift Valley, the Gorongosa system is constantly in flux, which makes it even more exciting as a living, breathing ecological treasure. The Gorongosa region is also situated in a very ecologically diverse setting between the lower Zambezi and Pungwe/Buzi river and delta systems.

People
A deeper look at the social history and cultural diversity of the people of Gorongosa provides a fascinating journey through the history and culture of Mozambique as a whole. Although people are not allowed to live within the Park, a large number rely on the Park for their livelihood, whether through fishing, employment, natural resource harvesting or related activities. Soon you will be able to learn more about the people who live in the traditional villages that border the Park.

History
Gorongosa has a rich and fascinating history. Through the centuries, this region has been on the crossroads of history, a result of both its geographic position as well as its abundant natural resources. From ancient civilisations to coastal Arab traders; from gold, ivory and slave traders of the ancient and recent past to localised tribal conflicts - central Mozambique's past is a microcosm of the history of Africa. Take a walk with us through some of the origins, the golden years, the harrowing civil war, and the recovery of Gorongosa National Park.
Although the primary focus of our unique safari experiences within Gorongosa is the incredible biodiversity of the region, we also like to introduce our guests to this varied and often quite harrowing history. This reflection on the past serves as a very important lesson on the impact of people on the environment and on each other - a reminder and a cautioning of the effects of our-story on this, our very fragile planet home.
Closed until further notice
Email for Reservations: gorongosa@go.mozbookings.com