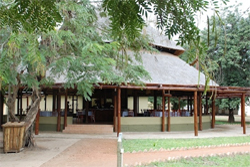 Accommodation
Cabanas
We currently have 9 modern and comfortable double cabanas located in a tranquil area of Chitengo, for a total of 18 separate rooms, each with 2 single beds or 1 double bed. All have mosquito netting, en-suite toilets, air-conditioning, and thatch chairs. Maximum occupancy: 2 persons.

Garden Rooms
We have 6 lovely rooms, recently refurbished, configured with either 2 single or 1 double beds and all have en suite bathrooms with showers. These rooms have fans and large windows looking onto a front porch and our swimming pool. They are close to the restaurant and have 24 hour Internet access.

Camping
The newly renovated campsite is now open! The campsite has everything you will need for a comfortable stay including bathrooms and showers with hot water, a grill area, firepit, an area to wash clothes, and a covered gazebo.

Location
Gorongosa National Park protects around 4,000 square kilometers of savanna, woodlands, and rainforest in central Mozambique, Southern Africa.

By Road
Travel on the EN1, a high quality tar road, until the turnoff to the park. From there it is 29 km on newly-graded dirt road to Chitengo Safari Camp.

By Air
Flights from Maputo or Johannesburg to Beira and Chimoio are available followed by a 3 hour transfer from Beira and a 2 hour transfer from Chimoio.
Climate and Seasons
Central Mozambique has a tropical savanna climate, with an annual rainfall of 1000 – 1400 millimeters. Summer temperatures average 30º-40º C, with high humidity (November - March). Winter months average 15º–25º C (April - September).

Photo safaris at the Park are possible from April to November (dry season). During the rainy season (December to March) the safari road network is closed due to flooding. You can use our 10-seat game viewer with a wildlife expert guide to fully enjoy your Gorongosa photo safari in the 150 km of Park roads, visiting places like the old Lion House or the old Hippo Bar. You can also visit the Park using your own vehicle, following the instructions provided in the map and leaflet that will be given to you at the main gate.
Chitengo Camp reservations: book@go.mozbookings.com
What to Bring
We recommend bringing a variety of clothing options
Light clothing (shorts, t-shirts)
Warm clothing (long sleeved shirts, sweatshirts, pants)
Hiking boots and socks
Raincoat
Sandals
Swimsuit
Sunglasses
Hat

For equipment, we recommend
Binoculars
Camera
Flashlight
Backpack
Water bottle
Sunscreen
Insect repellant

Health Services
The Park's small health clinic provides basic first-aid, including anti-venom for some kinds of bites and primary anti-malarial treatments. Gorongosa National Park is a recognized malaria area, so we recommend proceeding with a course of prophylactic medicine two weeks before departure (or as prescribed by your pharmacist or physician). All chalets are fitted with mosquito netting.
For more serious medical problems, we provide transportation to the health clinic in Vila Gorongosa, a 1.5 hour drive away (about 60 kilometers). The Park's Health clinic has a resident doctor and nurse and a good supply of basic medicine. We sell bottled mineral water at a reasonable price, so you'll only need to bring purification tablets if you're on a tight budget.
Languages
Mozambique's national language is Portuguese. Many people in its main cities (Maputo, Beira, Chimoio) also speak English. In and around Gorongosa National Park, local residents speak either Sena or Chi-Gorongosi (a local dialect), although many also know some Portuguese. Our staff in Chitengo speak English and Portuguese widely, and some speak other European languages.

Getting Here
Gorongosa National Park is mostly wilderness surrounded by rural areas with only a few small, scattered villages. Whether you're traveling by air, car or bus, you'll want to make careful travel arrangements well in advance. If you come by car, please be aware that Gorongosa National Park does not sell fuel. Buy fuel only from stations that look respectable and have a functioning electric pump. The closest reliable stations are in Vila da Gorongosa, Inchope, Gondola, Nhamatanda, Beira, Dondo, Chimoio and Caia. Fuel at other locations may be dirty or mixed with water or other chemicals.
Restaurant
Chitengo Safari Camp has a reasonably priced bar and restaurant serving authentic Mozambican breakfasts, lunches and dinners. Breakfast is included in the price of the cabanas. We are proud to feature many locally grown organic vegetables on our menu to provide you with fresher, healthier foods and to help support the local communities near Chitengo.

Payment
Park Entrance fees must be paid in MT. In camp, the following payment is accepted: MT, US$, Euros, Rand, and credit cards (VISA, Master Card, BIM). Checks are not accepted.

Fuel
We do not sell fuel. Fuel can be purchased in Vila da Gorongosa, Gondola, Nhamatanda, Beira, Dondo, Chimoio and Caia.

Seasons
The Park is closed during the rainy season.
Chitengo Camp reservations: book@go.mozbookings.com