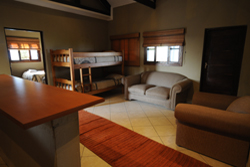 Meals
Comprises largely of freshly caught seafood - with delicacies such as prawns, crab & crayfish.
Breakfast / Lunch / Dinner are set menu's.
Festive season will be a buffet affair.
If you do not feel like cooking - let us prepare a tasty meal like only the Portuguese can.
For the early birds - come enjoy our "Boere Breakfast".

Launch site
There is only one 'official' launch site in the Chidenguele area and it is about 1km north from Sunset Beach and just past Paraiso de Chidenguele, another resort in the area. This launch can be tricky and dangerous and one should be very careful when launching here. This is also the best spot for kayak fishermen to launch, but great care should be taken when negotiating the second reef. Most boats, however, launch about 7km down the beach and just past Demares Resort where there is a clear break in the rocks. The area right in front of De Mares Resort is also a favourite spot for kayaks to launch and much safer than the other launch site, although the best fishing grounds is a bit difficult to reach from there. Bigger ski-boats should use the inland road to access the beach at either Demares Resort or Paraiso de Chidenguele, since the road down to the beach from Sunset Beach is very steep and sandy.
Fishing in the Chidenguele Area
The Chidenguele area is a well kept secret and has a variety of species that can be caught right from the beach, offshore, on fly and from a kayak.
Offshore Fishing
Chidenguele is first and foremost kingfish country and real monsters roam the many offshore reefs that run for miles along the unspoiled beaches. The drop-offs and canyons directly in front of the light house is the primary area to target, but there are also some very productive reefs around 10 km offshore from the light house. Except for kingfish, the main target species are couta, snoek (queen mackerel), dorado, tuna and bonito. Sailfish can also easily be caught close to shore (in about 30 meters of water). Huge rockcods are common and they are often impossible to rise from the bottom.
Although a bit far away from the ski-boat launch site, the well known areas of 'Kings Pool' and 'Mermaids' lies about 20 km north of Sunset Beach and is another possibility. This area has an abundance of reefs close to shore and the kingfish that have been caught, or rather lost, in this area are legendary.
It is best to take your own bait along when visiting this area, but needlefish (ballyhoo) can easily be caught anywhere in the vicinity of rocks where there are also some sheltered and calm water. The local fishermen occasionally also net needlefish at Kingspool and Mermaids and will sell them to you if they are not too hungry. Except for needlefish, fresh sardines and both sugar - and Japanese mackerels work very well for everything from couta to sailfish. If you can get hold of bonito's, don't be afraid to rig them for couta. There are some big crocodile couta around and even a 5kg bonito will easily be eaten.
Bait Fishing
Inshore fishing at Chidenguele is a cut above, and if you put in the time you will definitely be rewarded with a fish of a life-time. Couta and dorado have been caught right from the rocks and ledges that line the beaches here, and big kingfish have stripped many a reel at Kingspool. When you fish in this area your tackle should be first class or you will go home a defeated man or woman.
Because beach driving is allowed if you are fishing and in possession of a fishing license, one can either travel for miles north or south of Sunset Beach and choose any spot that your heart desires. Usually there will be no one else around. You will have to plan your time well, since many areas are difficult to access during high tide. It is not easy to describe to prime areas to target, since there are so many, but look for a clear break in the ledges with a hole and some open water behind it. The main species to target are rockcod, Natal stumpnose, cob (during the winter) and spectacled snapper, although any of the other usual suspects can be caught around the rocks. The best fishing is at night, so mark your spot during the day and return when the water is low (when fishing from the ledges).
If you are interested in catching a big sand shark, then Chidenguele is the place to come to during the summer months. During low tide, look for any sandy beach with a sandbank that you can wade to and that will enable you to cast as deep as possible into the blue water behind it. 'Slide' a mackerel - or chokka bait and be ready to have your arms stretched. Other big sharks are regularly hooked from the ledges 15km north of Sunset Beach.
For all edible fish, sardine is still the best bait around - that is if you prefer to eat your crayfish. Take enough from home, since sardine cannot be bought at Sunset Beach. The same goes for chokka. If you can get hold of some bonito fillet, you are guaranteed to catch a big spectacled snapper or a sand shark. Crayfish and octopus can be bought from the local divers that go search for them early each morning. Crayfish is the number one food of choice for most fish in the sea, so if you can resist the temptation of eating them yourself, use that as bait above anything else.
Drop-Shot Fishing
The many inshore reefs and tidal pools make the area an unforgettable drop-shot venue. Between Sunset Beach and the light house to the south is an excellent area to target a variety of kingsfish species and at Mermaids and Kingspool there is always to chance to hook into a real giant. South from the light house there are so many spots for drop-shot fishing that you can spend a life time exploring them.
Popper Fishing
If you are looking for excitement beyond compare, then bring a strong rod, big poppers with single hooks and some heart pills along. The giant kingfish in this area will make your heart skip more than one beat when they smash your popper on the surface. Landing them is a different story. The prime area to hook one of these busses is around Kingspool. Purple, green and white poppers work very well and they should be heavy enough to enable a cast of a least 100m.
Fly Fishing
For fly fishing in the tidal pools and amongst the rocks a nine-weight fly rod will do the trick, but if you are fishing at Mermaids or Kingspool, rather bring a twelve-weight rod with enough backing along. Ask your local tackle dealer to recommend a fly for the area, but chartreuse clouser minnows and any deceiver work very well. The same goes for poppers. A pink crazy Charlie is recommended for the wave garricks and threadfins that frequent the surf zone.
Map to Sunset Beach

Sunset Beach Lodge Reservations: book@go.mozbookings.com