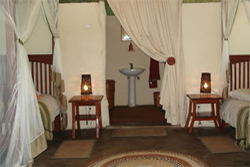 Accommodation
Our safari camp is equipped with five en-suite bungalows build out of local material with hot and cold water showers, a fully equipped kitchen with dining area and lapa, swimming pool, skinning area and generator (220V).
Chalet 1and 2: 3 People
Chalet 3 and 4: 2 People
Chalet 5: 4 People
Who and What is Nhenda Safaris
Nhenda Safaris is an exclusive safari operator providing hunting and fishing safaris and tours in the beauty of the African wilderness. We hunt in Northern Mozambique on community based projects THUMA TCHATO. Hunting area covers over two million acres on two (2) adjoining concessions, we are on the North shore of Lake Cahorra Bassa, one of Africa's greatest man made dams on the Zambezi River.

Lake Cahorra Bassa offers some of the best Tiger fishing to be had in Africa. Most of the area is covered by Miombo and Mopani woodland although there are substantial open savannah areas and seasonal wetlands as well as riverine forests along the many rivers and streams, the landscape is scattered with inselbergs and ranges of hills. Altitude 350m. Nhenda Safaris is a member of BHA (BOSVELD HUNTERS AND GAME ASSOCIATION) and CHASA (NATIONAL CONFEDERATION OF HUNTERS ASSOCIATIONS OF SOUTH AFRICA).

Fishing Area
"Nhenda" is not only the "house of the lions" but shares it with the most fears water predator the tiger fish! The lodge is build on the banks of the Duangua River surrounded by the best fishing waters on the dam, this means you don't need to travel more than 5km from the camp to get to the best fishing waters filled with structures like trees, rocks, little islands, seasonal rivers, grass, reads and drop-offs.mNhenda is also a bird watching paradise .Fish eagles, the Pel's Fishing-Owl… come and see !
Included in the Basic Safari Rate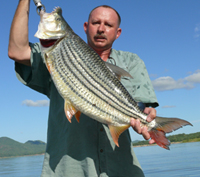 Fishing Safari
1.Exclusive Camp – The Nhenda Camp can accommodate up to 14 people per group, the group preserves the right to the camp except if the group is smaller than 6 people, then group can be combined with prior notification.
2.The use of boats, accommodation, meals and drinks (including drinking water, sodas, local beer and wine) Medical kits and fire extinguisher in camp, on vehicles and boats.
3.Daily laundry.
4.Field preparation of trophies – Fishing: we promote "CATCH AND RELEASE" clients will be allowed to take trophies.
5.Guided Nature walk.

Fishing License per client
Nhenda Safari's will obtain, a legal Sport and Recreational fishing license from the Department of Fisheries on behalf of each client. Requirements: Two weeks before the safari, Email copy of the clients valid passport, address, postal code and telephone number.
Nhenda Camp Reservations: book@go.mozbookings.com
Not Included in the Basic Safari Rate
1.Air charters - POR
2.Airport departure tax
3.All hotel and restaurant charges before and after the safari. Nhenda will not be liable for delays in flight schedules where clients arrive to late to be transferred to camp and have to sleep over.
4.Gratuities to staff. (Depends 100% on the clients discretion)
5.All personal expenses.
6.Bank charges for transfer of money to Nhenda Bank Account
7.Use of satellite phone and internet.
8.Spirits, clients are welcome to provide their own or can ask the camp manager to buy some on their behalf and charged to their final account.
Laundry Service
Clean towels and linen are provided and changed every 3rd day or on request of the client. All rooms are cleaned daily and laundry retuned the same or next day.
Electricity Supply
All rooms with 220V power and rechargeable lights should the generator been off. Rooms are equipped with fans, comfortable mattresses and mosquito nets.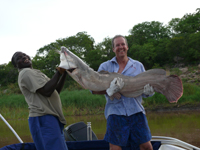 Meals
The Daily rate includes the following
5h00 – Early breakfast (Coffee, Tea, rusks, cereals, yogurt and fresh fruit)
11h00- Brunch
19h00- Dinner (Starter, main course and desert)
Although we mention "times" above the staff is fully flexible with meal times, we prefer serving brunch at the lodge but if clients want to continue fishing and rather want to take a packed lunch please arrange with the kitchen in advance. Coffee, tea, drinking water, cool drinks local beer and wine are served during the day at the bar and on the boat. Clients are welcome to bring their own Hard Tack, snacks and sweets for the boat. If any client has any special dietary needs please let the staff know in advance, we are far from any shops and won't be able to cater for any special needs ones you arrive in camp.
Boats
21 Ft CAT 2 X 90 Hp
19 Ft Sunprince 1 x 125 HP
21 Ft Cape Craft 2x90 HP
15 Ft Mono hull 2 x 40 HP
Boat accessories include
Toolbox, Basic medical box, Life jackets, VHF Radio, landing net, anchor, scale, fish finder, cool-box paddle. Nhenda has Rods and reels available.
Suggested gear
Rods: 7 Ft Med Heavy Trevalla rods
Real: Shimano Symetre 4000, Sustain 4000, Stella 4000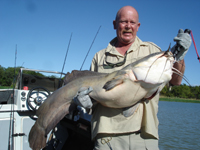 Spinners: We are using bigger spinners "No 6" Tigerwakka spinners Available in camp
R90 each fitted with Daichi hooks. Copper / Red / White
Line: 50 pound to 60 pound quality braided fishing line. (Do not forget to put plaster on the spool underneath your line) Nhenda Safari clients get a special discount at GANIS ANGLING WORLD.
Satelite Phone and Internet
In case of Emergency guest will be allowed to use the satellite phone in camp at a rate of $2/min. Guest is welcome to receive calls on the satellite phone. We have wireless internet in camp with a laptop that could be used by guests, please use it for emails only, surfing and downloading of music and movies are not permitted.

Seasons
The Mozambique hunting season is open from April 1st through to November 30 Th.
Fishing is good all year round but gets better in the hot months of October to February.
Visas
Clients must obtain a Mozambique visa at the port of entry. Please consult your local embassy.

Directions by Road
We are trying to guide clients the best we can, but please note we can't be held responsible for any cost changes at borders, it's changed daily and any rate given should be regarded a rough estimate.
Clients and Drivers will need the following documents:
1. Valid passport and Yellow Fever card.
2. Original vehicle and trailer registration card.
3. If the vehicle is in the banks or person other than the drivers name registered, a permission letter from that person/bank to use his vehicle in Zimbabwe and Mozambique certified by the police.
4. Police clearance certificate
5. Drivers license
Beitebridge:
Get a gate pass when you enter.
Stamp passports at immigration.
Complete a TEP – Temporary Export Permit (DA 65) for the vehicle and the trailer (on the same form)
A Separate form will be provided to declare all personal items, please make sure to complete it , use terms like camping gear,
fishing gear ex.
Zimbabwe:
DON'T USE A RUNNER!!!! Please don't, even if the border is very busy! On every border at every immigration or customs desk there will be someone that can speak and understand English, if you need ANY assistance please ask someone with a clear identification as a customs or immigration officer, they are there to help, stay friendly and calm at all times!!!!!
1. Pay Bridge Toll, you will receive a yellow card or gate pass and a receipt.
2. Complete an Immigration form for every person. Address in Zimbabwe – Transit to Mozambique via …. Border post, Go to Immigration desk, make sure all passports are stamped and the gate pass given back to you.
3. The driver will complete a TIP - for the vehicle and the trailer also declare fishing and camping gear on the bottom of the form. Pay the following: Road Tax ( pay on your way in and again on your way back) Carbon Tax – Calculated on the size of the vehicles engine capacity (Valid for 30 days so you can use it again on your way back)
4. Pay 3d Party Insurance for Zimbabwe; You need to get for the car and the trailer, it's valid for 30days.
Depending on the route you take you will pass 2-4 Toll gates in Zimbabwe. When leaving Zimbabwe stamp passports again and return the TIP at customs.
Mozambique Border:
1.Get a gate pass from the gate when you enter.
2.Stamp Passports at Immigration. South African Residence enter free of charge. ALWAYS add extra days to your stay if you stay for 7 days rather but 10 days on the form to be save.
3.Buy a TIP from Customs (40.00mtn) if you need to change money at the border to pay the TIP please only change what you need and be very careful!!!
Information you will need to complete the TIP: Reason for Visit: Tourism, Length of stay: 10 days, Address in Mozambique: Nhenda – Maravia Tete Province
4.Buy 3d party insurance at the border. Insurance is valid for 30 days.

Road:
From Tete turn right on the Songo turn off, drive plus minus 100 km to the Estima turn off, turn left, drive plus minus 100 km to Daque town, in Daque town turn right at the Nhenda sign board, follow the road for 8 km to camp. All very good tar road except the last 8km to the Nhenda Daque camp that is gravel.
Nhenda Camp Reservations: book@go.mozbookings.com
Direction when Flying
Clients are recommended to book flights that arrive in Tete by midday and depart at midday or late afternoon. The drive from Tete to camp (200 km) including boat trip (35 km) can take up to 4 hours.
Private Charters
Charter planes can use Songo Air strip. Songo Airport has no fuel and planes need to be refuel in Tete. We advise clients to do immigration and Custom clearing in Tete. It can be done at Songo with prior arrangement with the airport staff. Airport is 120 km from Nhenda Daque camp. Plus minus 3 hours to Nhenda camp
Helicopter
"HELIPAD": S15 35 15.84 E31 53 11.71
Medical
Please check with your local physician and your Public Health Service for current health recommendations, as well as current anti-malarial prophylactics suggested for Mozambique. Experience with hunters using "Lariam" showed dangerous side effects like depression, nausea, and shivers having a very negative influence on the hunting or fishing experience and clients are requested to test and try it way in advance before the safari or to make use of alternative prophylactics.

Although we don't have high mosquito population in the area we believe "prevention is better than cure" and recommends the use of insect repellent at all times. Visitors can buy malaria medicine before departure, should they get malaria back home. Bring your own medications and prescription drugs. Medical facilities in Mozambique are very basic, it's every client's responsibility to make sure he is fully insured for emergencies and evacuations that may occur. Due to high temperatures clients are requested to bring own sun block (with minimum SPF 40), a good After sun and hat. All clients must have a Yellow fever card

List of recommended personal items
Insect repellent
Prescriptions drugs-medicines if you take them regularly
Eyewash
Dark and prescription glasses
Binoculars (essential)
Camera and video with enough batteries
Flashlight
Rain coat
Water bottle
Costume
Clothing
The climate in the game area is moderate to very hot and we recommend only a thin jacket or long sleeve shirt. During the daytime you can wear shorts, t-shirts and short sleeve shirts. We run a very informal camp and suggest comfortable and cool clothing. As all clothes are washed everyday we recommend only 3 sets of clothes.
Nhenda Tuck Shop
Nhenda Fishing Shirts – R300
Nhenda Hunting Shirts – R 400
Nhenda Bush Hats – R100
Nhenda Caps – R70
Tigerwakka Spinners – R90
Nhenda Camp Reservations: book@go.mozbookings.com