Email for Reservations: jollyrogers@mozbookings.com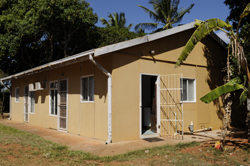 Welcome to the Jolly Roger, home of the pirates.
We are the only Overnight Accommodation and Restaurant exactly midway between Maputo and Vilanculos, situated the village of Inharrime, in the Inhambane Province of Mozambique.
We Offer good clean Overnight Accommodations, a Bar and a Restaurant where good food and Ice cold Beer and Beverages are served. For the Passer by, who is not really hungry or thirsty but just needs a Clean Serviced Toilet - this would be the place to stop - Here you are at home away from home.
If, early morning or late night there is no-one to greet you at our reception, you are welcome to knock on our door (although the Guards would have called us), or phone us at any time. We will try and make you as comfortable as possible, and will, if you contact us before hand, make sure that you at least have a warm meal and a cup of coffee when you get to us (Irrespective of the hour).
Accommodation:
One, Two & Three Bedroom Houses:
Lovely pre-fabricated houses. Bedrooms with double or single beds. Bathroom with hot and cold water. Separate toilet.
Kitchen nook with kettle & mugs for your early morning coffee (supplied). Clean linen, towels and mosquito nets. Bedrooms air-conditioned.
Economy - Four Bedroom wooden House:
Four (4) Bedrooms all en-suite 3 with single beds and 1 with a double bed. Lounge and kitchen. Bathrooms all with hot & cold water. Linen, towels and mosquito nets supplied. Fans in all the rooms. Morning coffee or tea supplied.