Welcome to the Jolly Roger, home of the pirates.
We are the only Overnight Accommodation and Restaurant exactly midway between Maputo and Vilanculos, situated the village of Inharrime, in the Inhambane Province of Mozambique.
email: book@go.mozbookings.com
We Offer good clean Overnight Accommodations, a Bar and a Restaurant where good food and Ice cold Beer and Beverages are served. For the Passer by, who is not really hungry or thirsty but just needs a Clean Serviced Toilet - this would be the place to stop - Here you are at home away from home.
If, early morning or late night there is no-one to greet you at our reception, you are welcome to knock on our door (although the Guards would have called us), or phone us at any time. We will try and make you as comfortable as possible, and will, if you contact us before hand, make sure that you at least have a warm meal and a cup of coffee when you get to us (Irrespective of the hour).
Accommodation:
One, Two & Three Bedroom Houses:
Lovely pre-fabricated houses. Bedrooms with double or single beds. Bathroom with hot and cold water. Separate toilet.
Kitchen nook with kettle & mugs for your early morning coffee (supplied). Clean linen, towels and mosquito nets. Bedrooms air-conditioned.
Economy - Four Bedroom wooden House:
Four (4) Bedrooms all en-suite 3 with single beds and 1 with a double bed. Lounge and kitchen. Bathrooms all with hot & cold water. Linen, towels and mosquito nets supplied. Fans in all the rooms. Morning coffee or tea supplied.
Two Bedroom Wendy Style House:
Two (2) Bedroom house with Lounge and small kitchen nook. Bathroom with hot & cold water. Linen, towels, mosquito nets and morning coffee or tea supplied. Lounge area and 1 bedroom air-conditioned the other with roof fan.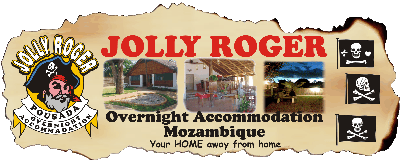 Restaurant:
Normal hours for the restaurant and bar are - 11h00 until 19h00. We are however available to cook up a storm if you arrive either early morning or late evening.
Menu:
We can cater for the Seafood lover, the Meat eater or the Vegetarian. If it is not on the menu, just mention what you would like and we will do our utmost to accommodate you.
Bar:
We might not have the biggest selection. We keep only the most popular drinks and cold drinks. You can however be sure that it will be ice cold and served with a smile.
Special requests:
If, while on your travels, you have a special occasion, (birthday, wedding anniversary etc) and would like a special place to celebrate this, let us know and we can help make it a memory - that will last forever. We only need a few days notice. ( this would not include week-ends)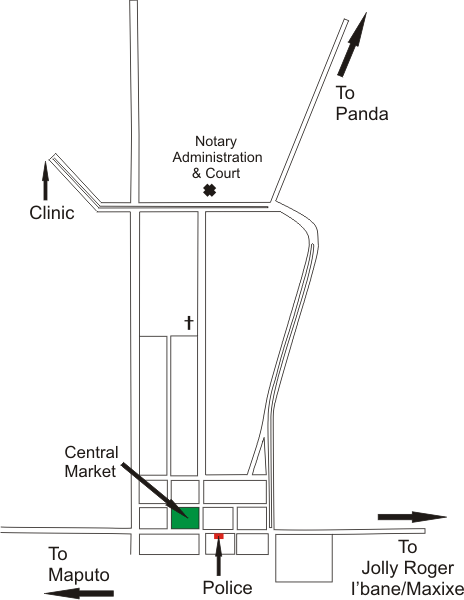 Directions:
Once you've gone through Xai Xai continue for about 2 1/2 more hours pass Quisico until you reach the village of Inharrime, then, go through the town for 300 meters when you will see a Jolly Roger sign on your left and we are down a short track on the right.
All about the Guys at Jolly Roger
We have been in this lovely country since 2003, when, after coming to the then, Barra Reef on holiday, we decided that this is the place where we would like to retire. Ha! RETIRE, (not that we are at the retiring age). Little did we realise what we letting ourselves in for. It is amazing that dreams and reality are so far apart that you don't realise when you are dreaming or not.
Alta managed Barra Reef, and I, well, I tried my hand at Hydroponic farming, which due to lack of knowledge and support from the local establishments (bad market research, you see!), came to a halt. We stayed at Barra for two years and then decided to move on. We were offered a very nice position at Zavora Lodge, where we Managed for a further two plus years.
Just as we decided that it was time for change, we were approached by our present Partner, Roger Johnstone, who asked us to join him in this venture. We jumped at it with all four hands.
So! after a year of negotiations and Faffing around with paperwork and spending lots of money, we finally opened on the 1st of October 2008. And now are eagerly awaiting your visit.
Well now, as far as peaceful living is concerned, where in the world can you, in this day and age, sleep with your doors and windows open? (We do.) I'm not saying that there is no crime or theft (there always will be), but if you're not careless and don't leave valuables lying around, they wont disappear, now will they?
Our dream is now reality .
Jolly Roger Prices
Prices are per
Room Type

High
Season

Mid Season

Low Season

Tba

Tba

Tba

Tba

Tba

Tba

Tba

Tba

Tba

Tba

Tba

Tba

Tba

Tba

Tba

Tba

Tba

Tba

Tba

Tba

email: book@go.mozbookings.com
Type of Accommodation at Jolly Roger

Chalets
Self Catering

Room/Chalet equipment

Ensuite Bathroom
Bedding
Fridge
Freezer

Fan/Heater/Aircon

Fan and Aircon

Towels Provided

Yes

Distance from beach

Road Access

2wd
Tar

Collect from Border

No

Collect from Airport

No

Nearest Border

Komatipoort 438km

Airport Nearby

Yes
Inhambane 103Km

Credit cards accepted

Yes

Pet Policy

No Pets

Internet

No

Local Mobile Phone coverage

No

Power supply

Mains / Generator / Solar

Plug points

2 Pin round

Activities/dive centre

Horse Riding
Quads
Padi Dive Centre
Game Drives

Shop

No

Shops nearby

103km
Basics

Drinking Water

Tap

Mosquito nets provided

Yes