Most Lodges and Hotels in Mozambique refer their clients to Casa do Campo and our regular guests prefer to stay with us on every trip because we offer clean, affordable rooms
email: book@go.mozbookings.com
Convenient stay-over after clearing the SA / Mozambican border. As driving after dark is extremely hazardous in Mozambique, many travellers chose to get through the border in the late afternoon / early evening (when the border is really quiet), stay over at Casa do Campo, and travel safely during daylight hours to their destination in Mozambique. Destinations such as Inhassoro, Vilanculos and Inhambane, are reachable from Casa do Campo following an early start whilst Xai-Xai, Bilene and other closer destinations are only an easy drive away.
Excellent Mozambican cuisine under the supervision of a Mozambican Head Chef and local staff. Unique Mozambican and Portuguese dishes are regularly prepared as an addition to our standard Menu.
Long term contracted stay-overs are also popular as Casa do Campo offers the only clean and affordable accommodation just outside Ressano Garcia.
The position of Casa do Campo right next to the main road leading from the border to Maputo makes it easy to find whilst the fact that it is on a farm rather than in town, greatly reduces the risk of Malaria and crime.
The staff of Casa do Campo operates as a family and offers a unique service experience unequalled in our region.
Advice on border clearing, reference to import agents and other businesses in Mozambique, referrals to Lodges, Hotels and Resorts in Mozambique

Accommodation at Casa de Campo Lebombo Border
Accommodation Offered
Family rooms with a double bed and a bunkbed
Large or standard double rooms
Backpackers' Dorm
Camping facilities
Activities and Facilities at Casa de Campo
Gymnasium
Swimming Pool
Restaurant serving true Mozambican and Portuguese cuisine
Bar with local and imported drinks and a good selection of wines
Coffee lounge for those who want to relax in quiet surroundings
Secure parking for guests, boats and caravans and overland vehicles
All rooms have air conditioning and all bathrooms have hot and cold water. Guests can enjoy DSTV (South African package) in the Bar / Restaurant and will soon have DSTV (Mozambican package) in selected rooms.

Where is Casa de Campo?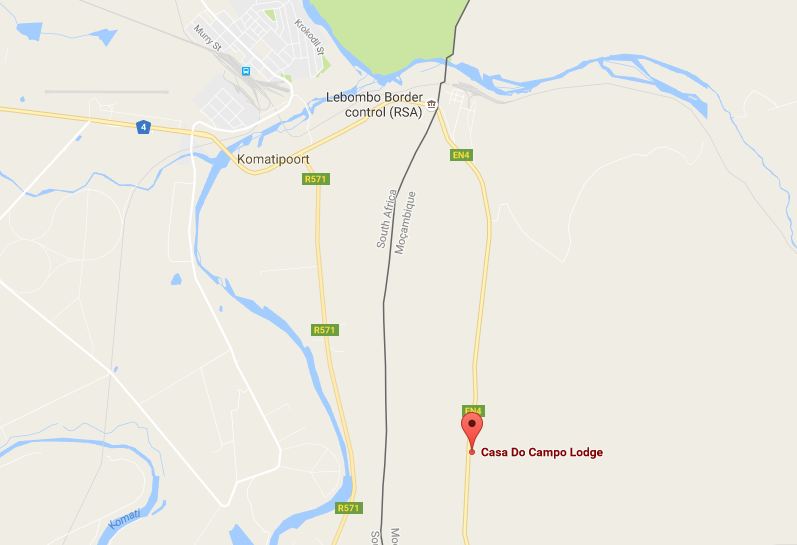 Casa de Campo Prices
Prices are given as a guide only and are subject to change
Room Type

Per room per night

Room 1 (max 2 persons)

1 200 MT

Room 2 (max 2 persons)

1 200 MT

Room 3 (max 2 persons)

1 200 MT

Room 4 (max 2 persons)

1 200 MT

Room 5 (max 2 persons)

1 200 MT

Room 6 (max 2 persons)

1 600 MT

Room 7 (max 2 persons)

2 000 MT

Room 8 (max 1 person)

1 000 MT

Room 9 (max 1 person)

1 000 MT

Room 10 (max 1 person)

1 000 MT

Room 11

N/A

Room 12 (max 2 persons)

1 600 MT

Room 13 (max 2 persons)

1 600 MT

Room 14

N/A

Room 15

N/A

email: book@go.mozbookings.com
Type of Accommodation at Casa de Campo

Camping
Rooms

Room/Chalet equipment

Fan/Heater/Aircon

Aircon

Towels Provided

Distance from beach

Road Access

2wd Tar

Collect from Border

Collect from Airport

Nearest Border

Komatipoort 10km

Airport Nearby

Maputo 95Km

Credit cards accepted

Yes / No

Pet Policy

Internet

Local Mobile Phone coverage

Power supply

Mains

Plug points

2 Pin round

Activities/dive centre

Gymnasium

Shop

Shops nearby

Drinking Water

Mosquito nets provided